Modest market a-changing
Thursday 6 September 2018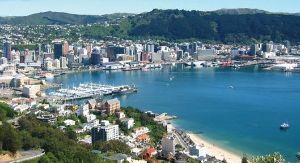 The Wellington region's values are still on the rise
Affordability constraints and low supply continue to impact on the market yet QV's latest data shows that annual value growth remains solid.
By Miriam Bell
Modest value growth is the name of the game when it comes to nationwide property values, according to this month's QV House Price Index.
It shows that nationwide values dropped by 1.6% in the three months to August, which leaves the national average value at $672,504.
Despite this, national values still increased steadily over the past year. Once adjusted for inflation, they were up by 3.3%.
QV general manager David Nagel says that it appears to be very much business-as-usual across the national property market.
"Low levels of supply coupled with a record low interest rate environment are driving modest value growth across most regions."
But QV's Index reveals that value growth was a mixed bag in the main centres.
In Auckland, value growth continued to decline, with values dropping by 0.4% over the past quarter and, once adjusted for inflation, by 0.8% over the past year.
This left the Auckland region's average value at $1,048,956 in August.
Christchurch values are still flat-lining, but Wellington's values remain on the rise.
They were up 0.9% over the last three months and by 8.5% year-on-year, leaving the region's average value at $656,676.
Many smaller provincial towns across New Zealand continue to see solid value growth, particularly in the lower North Island.
The southern part of New Zealand, including Dunedin (up 10.7% year-on-year) and Invercargill (up 13.3% year-on-year), is also seeing values steadily increasing.
Nagel says the regions' value for money continues to appeal to a range of buyers even during the quieter months.
But affordability constraints are changing buyer behaviour, he adds.
"We're seeing an increase in demand for more affordable two-bedroom semi-detached units as well as apartments, particularly in our main centres.
"With population growth projected to continue to rise, I'd anticipate these types of properties will attract even more demand in future years, particularly in Auckland and Wellington City."
Going forward, Nagel says they are anticipating value growth to remain flat or steadily grow across most regions.
"The market is currently experiencing polarising forces with key market drivers such as low interest rates, population growth and lack of supply, being countered by tightening credit conditions and a range of Government policy initiatives aimed at cooling the market."
While the winter period has taken the heat off the market, they expect the spring period to inject new energy – and a few more buyers and sellers - into the market, he says.
Comments from our readers
No comments yet
Sign In / Register to add your comment
There is no rush of investors looking to sell their properties in the post-Covid-19 market, according to the second joint survey from REINZ and economist Tony Alexander.
Auckland 's long-term future is sound as well situated residential developments will always sell and demand for affordable housing remains strong, a leading non-bank property financier says.
The New Zealand property market has emerged strongly out of lockdown, according to mortgage advisers, who say they are busy as ever this winter.