Strength in lower-end of market
Wednesday 1 August 2018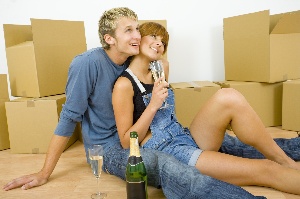 First home buyers are driving growth in the lower end of the market
Sales activity and value growth is still taking place in the flatter market – but most of it is now at the lower end of the market, new QV data suggests.
By Miriam Bell
Nationwide property values dropped by 0.7% over the past three months, which left the national average value at $673,797, according to the latest QV House Price Index.
While nationwide values inched down the past quarter, they have increased by 3.5% over the last year, once adjusted for inflation.
At the same time, property values in the Auckland region remained largely flat over the last quarter, slipping down by 0.1%, to reach $1,050,778 in July.
Once adjusted for inflation, average Auckland values dropped by 0.9% year-on-year.
The trend of flat, or slowing, value growth was evident in regions around the country – particularly in the main centres, apart from Dunedin.
QV general manager David Nagel says they are seeing a shift in the market across many regions, with most market activity and value growth taking place at the 'lower-end' of the market.
That's despite relatively static values around the country and is due to continued demand from first home buyers for affordable properties.
Nagel says first home buyer activity remains reasonably strong around most of New Zealand, while investor activity has dropped off in most main centres because of the LVRs and a period of consolidation after recent growth.
"Dunedin continues to buck the trend, with investors accounting for a growing portion of buyers according to the latest buyer classification data.
"With an average value of $411,669, investors are attracted by the relatively low values and strong yields."
QV consultants from around the country commented on the decline in investor activity, with QV Auckland senior consultant James Steele also noting the shift in the market.
He says the return to "normal" market conditions is continuing as values remain stable under depressed levels of activity.
"Despite the fact that investor activity has dropped, entry-level properties, especially those which are well presented and under $650,000, continue to transact in the current market.
"This is understandable given the affordability challenges and built-up demand from first home buyers."
With less demand, sellers are adjusting expectations and are more open to negotiation in order to get their property sold, Steele says.
"In general, this has limited the value growth seen over the previous period and kept prices stable with some softening occurring in properties which have issues or are poorly presented."
Meanwhile, Nagel says they will be closely monitoring the impact of the KiwiBuild initiative on the housing market over coming months – even though its full impact won't be felt for some time yet.
"With overall market conditions remaining strong, such as record low interest rates and strong local economies, I would anticipate that values will remain fairly stable for the remainder of winter."
Comments from our readers
No comments yet
Sign In / Register to add your comment
New Zealand's housing market might be cooling but it's in sync with global trends – unlike the Australian market's dramatic decline, according to a major bank.
Investors interested in a property that's a bit different, but provides good returns, should check out one of the niche sectors on offer in the commercial sphere.
The latest Reserve Bank figures show investors borrowed just $886 million in February, down on the same month in 2017 and 2018, as first home buyers narrow the gap.