Queenstown tops NZ rent ranks
Wednesday 20 June 2018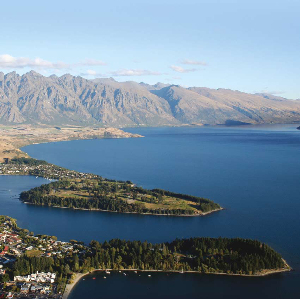 Queenstown is the most expensive place to rent in NZ
Queenstown landlords are sitting pretty this year as median weekly rents in the area soar and tenants stay put, according to new rental data.
By The Landlord
The latest Trade Me Rental Price Index shows the median weekly rent in Queenstown Lakes has jumped 12.9% since January.
This leaves the district's median rent at a very hefty $790 a week, which makes it the most expensive place to rent in in New Zealand.
Head of Trade Me Property Nigel Jeffries says the rental market in the Queenstown Lakes had seen staggering growth in the last five years as supply struggles to keep up with increasing demand.
"With the median weekly rent in Queenstown Lakes at $790, that's a whopping $240 more per week than the median rent in the Auckland region."
At the same time, the number of rental listings in Queenstown Lakes is down 18% on last year because tenants are choosing to stay in rentals longer, he says.
"With the average asking price for a property in Queenstown now more than a million dollars, housing affordability is the big driver behind this rental situation.
"Most renters are put off by the sheer size of the mortgage they'd need to own a property and end up choosing lifestyle over mortgage repayments.
"With more tenants staying put, this means less rentals coming onto the market."
The Hawke's Bay rental market is running hot too.
Trade Me Property's data shows demand is up and this has led to a 12.5% year-on-year rise in the median rent which has left it at a record $405 per week.
However, while the national median weekly rent was up 5.6% on last year, it stalled in May and remained at April's record-breaking $475 per week.
Jefferies says they are seeing a similar trend in the main centres with rents in Auckland at a stand-still and stalling in Wellington.
Auckland's median rent was $550 per week in May, which was unchanged from April.
At the same time, the number of rentals in the Auckland region was up 11% year-on-year while rentals in Auckland City were up a solid 28%.
"With supply picking up and better meeting demand we don't expect to see any major changes in the Auckland rental price for the next few months," Jefferies says.
The median weekly rent in the Wellington region also followed the national trend and stalled in May. It was up by 6.7% year-on-year, but remained at $480 per week for a second consecutive month."
In Wellington City, the median weekly rent fell $10 on April to $520, rents in Upper Hutt dipped $40 to $395, and Lower Hutt rents remained unchanged on April at $450 per week.
Jeffries says demand for rentals in the capital also eased in May as tenants took a breath.
Comments from our readers
No comments yet
Sign In / Register to add your comment
There's slowing price growth and subdued sales nationwide – and yet a new survey shows the number of people who think it's a good time to buy a house is at a five and a half year high.
New Zealand's housing market might be cooling but it's in sync with global trends – unlike the Australian market's dramatic decline, according to a major bank.
Developing co-working and flexible spaces in commercial properties offers big opportunities for landlords, the results of a major new survey suggest.
Shockwaves are running through Australia's finance industry following the Royal Commission's damning report so how could the recommendations impact on New Zealand investors?