Throwing out the rulebook
Monday 19 February 2018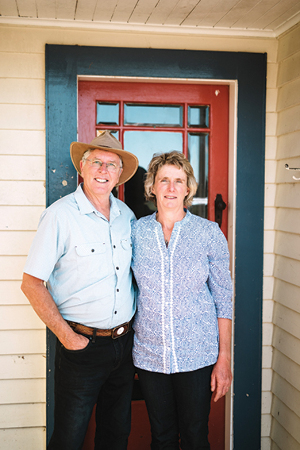 Hawkes Bay property investor couple Lex and Angela Severinsen
One Hawkes Bay couple have done everything investors are told not to, but their success speaks for itself – and now they are telling their story.
By The Landlord
Lex and Angela Severinsen have thrown out the property rulebook, they tell NZ Property Investor magazine in their profile in this month's issue.
Yet they have been enormously successful forging their own path, ignoring the naysayers and letting the little things look after themselves.
Over 25 years they've bought and sold between 60 and 70 properties and currently own 11 properties in New Zealand and three in the US, all debt-free.
Their combined portfolio provides the couple with an annual income of $200,000, which lets them live exactly the way they want to "in the middle of nowhere" on their rural property an hour from Hawkes Bay.
Broke when they got married in 1986, the couple began farming, but after four years and a drought they had $100,000 worth of cattle and the same amount owed to the bank.
They were anxious but some property investor friends told them about a block of eight rundown units in Hastings Central returning about 18% net.
The Severinsens were able to get a government Drought Relief Loan at 12.5% interest, so they sold a couple of skinny cattle for the deposit and made their first foray into property.
Interest rates were high at the time and more seasoned investors were sitting on their hands, but the Severinsens weren't daunted and lived in the flats while renovating them and working.
And the punt paid off: helped by a rising market, the flats grew in value by 54% and the couple knew they were on to a winning investment – and their property journey was underway.
Since then they have built their impressive portfolio and have also been through three or four property cycles along the way.
This has given them a sense of perspective, Lex says. "You need to remember that nothing lasts forever, not the bad times and not the good times either."
To that end they are happy with what they have achieved, thanks to their love of adventure – and are quietly keeping an eye out for something exciting this year.
To read more about the Severinsens' property journey, along with their DIY investment tips, click here to get the digital issue of NZ Property Investor magazine.
Subscribe to NZ Property Investor magazine here to get great stories like this delivered to your mailbox every month.
Comments from our readers
No comments yet
Sign In / Register to add your comment
Remember Auckland's "halo effect"? Well, it's happening again but this time it's at play in the Wellington region as the capital's market powers along.
Technology and changes to the way people work are set to transform the commercial property sector and investors need to be attuned to these developments.
The latest Reserve Bank lending data reveals investors borrowed more than $1 billion in March, the highest figure since November, but a 10% fall on the same period last year.