Welcome mat for pets
Monday 22 August 2016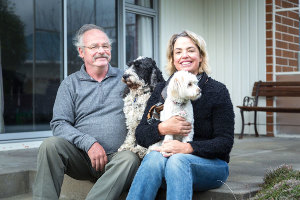 Pet-friendly Christchurch investors Blair Anderson and Natalie Perzylo
Tales of pet-owning tenants struggling to find rental accommodation abound – but one Christchurch couple believe many landlords are missing out by not being pet-friendly.
By The Landlord
Christchurch property investors Blair Anderson and Natalie Perzylo saw a need for pet-friendly accommodation in the city post-earthquake and moved to provide some.
The result? Not only have the couple become passionate advocates of pet-friendly housing and cities, but they have seen the rapid growth of their property portfolio.
Anderson and Perzylo, who are profiled in this month's NZ Property Investor magazine, believe there is a widespread, ongoing failure to recognise the crucial social role animals and pets play in our lives.
The fact that few others have cottoned on to this glaring niche opportunity has been advantageous for the couple.
It's enabled them to grow their pet-friendly property portfolio in Christchurch over the past three years, rapidly and with ease, from one to 14 income streams.
Initially, they provided short-term rental, furnished accommodation for homeowners working through post-earthquake insurance issues.
These days they operate a little differently, but the properties are earn a good rental income: they are significantly cashflow positive with close to a 10% yield.
Anderson told NZ Property Investor that a major factor in this is that they are pet-friendly.
It's difficult to determine how much extra the properties earn through allowing pets, but there are intrinsic benefits, he said.
"When you advertise, you have people queuing up and you get to pick quality tenants and they think you're great landlords.
"They are more compliant. Pet-friendliness means we have good tenants who work with us or empathise with us in constructive ways."
In his view, landlords can only benefit by being pet-friendly.
To this end, Anderson and Perzylo plan to continue growing their pet-friendly portfolio while supporting pet-friendly initiatives in Christchurch.
To read to the fully story, click here to get the digital issue of NZ Property Investor magazine.
Subscribe to NZ Property Investor magazine here to get great stories like this delivered to your mailbox every month.
Comments from our readers
No comments yet
Sign In / Register to add your comment
KiwiBuild "reset" policies will boost demand, rather than supply, and that will lead to house price rises, Westpac's economists are predicting.
Auckland-based commercial property disrupter, Jasper, has raised $2.3 million in seed funding following investment from European asset manager M7 Real Estate.
The Reserve Bank's decision to slash the Official Cash Rate (OCR) by 0.5% to a historic low of 1.0% has shocked the financial community, but what could it mean for the housing market?