Investment Properties for Sale
Welcome to our Investment Gems section. To ensure we are providing quality listings aimed at investors, the properties listed on Investment Gems have met at least one of our four criteria before they are approved.
If you would like to list your investment property, click here.
Search Results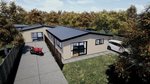 $499,000
5 bedrooms
2 bathrooms
$670 rental per week
House area: 129 sq.m
Land area: 558 sq.m

What a time to invest in Te Kuiti with it's wonderful community feel, all the amenities your tenants will need and at an incredible price. Te Kuiti is 20mins from Waitomo, just over an hour from Hamilton and 90 mins from Taupo. This is the perfect location for your first or next investment property. A...
View details »