Investment Properties for Sale
Welcome to our Investment Gems section. To ensure we are providing quality listings aimed at investors, the properties listed on Investment Gems have met at least one of our four criteria before they are approved.
If you would like to list your investment property, click here.
Search Results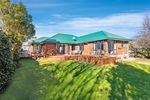 $POA/Auction
4 bedrooms
2 bathrooms
House area: 190 sq.m

Enquiries Over $549,000 Secluded privately on a back section, your peaceful and perfect family home awaits. Fastidiously renovated by our vendors to ensure comfort, convenience and quality that will be enjoyed for years to come, you will be hard pressed not to fall in love with this one. Your custom...
View details »